Franco Carlisi: Il valzer di un giorno
Franco Carlisi: Il valzer di un giorno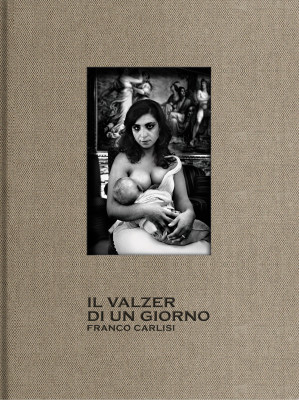 Author: Franco Carlisi
Texts: Andrea Camilleri, Alberto Giovanni Biuso, Pippo Pappalardo, Giusy Randazzo, Gaetano Savatteri
Pages: 208
Languages: Italiano/Inglese
Year: 2018 second edition
Format: 240x320 mm.
Binding: Stitched paperback binding

ISBN 978-88-95388-36-6
€ 54,00
NEW EDITION - SECOND EDITION
Franco Carlisi's eye keeps catching some "off-screen" images and gives them back to us, I would say just as a narrator, with an extraordinary liveliness and intensity.
An absent look, a distracted bride, the suffering aspect of a parent for the coming separation.
They are photos that will never enter the official album authorized to be the matrix of memories. The dressmaker breaking a thread of the bride's immaculate dress with her teeth would be out of place.
The wedding photos usually long for elusiveness, lightness, purity, solemnity.
Instead, through Carlisi's eye, everything becomes physical, strong experienced, real, without half tones. See the bride breastfeeding her child.
Aren't they a story of great expressive strength?
Andrea Camilleri